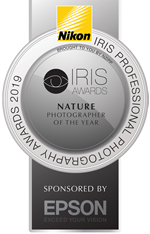 2019 Nature Photographer of the Year – NZ Iris Awards
I'm very proud to be 2019's Nature Photographer of the Year. It's hard work entering awards - every part of the process you ask yourself if your work is good enough. It's an amazing feeling to be validated with such an impressive title.
It's an ENORMOUS way to improve and test yourself against the best in your region, your country, the world.
Take a look at some of the work that I have been privileged to be recognised for over the years.